Home » Aluminum Sheet »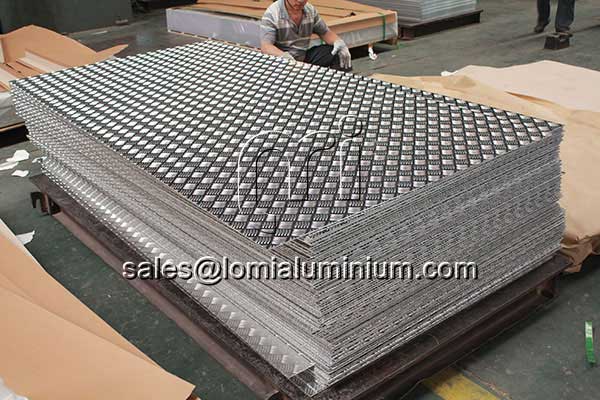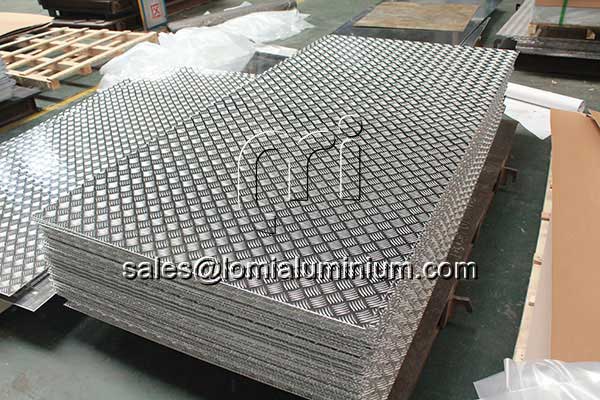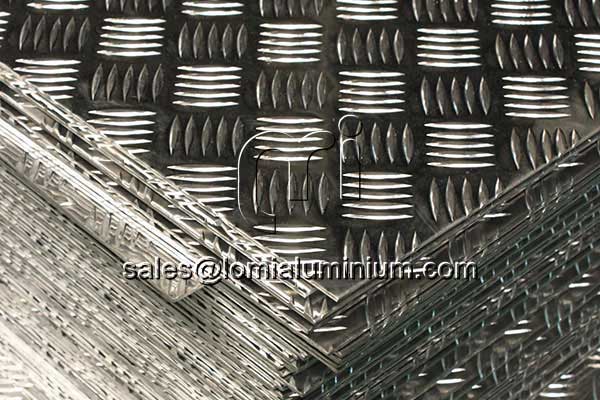 aluminum checker plate sheet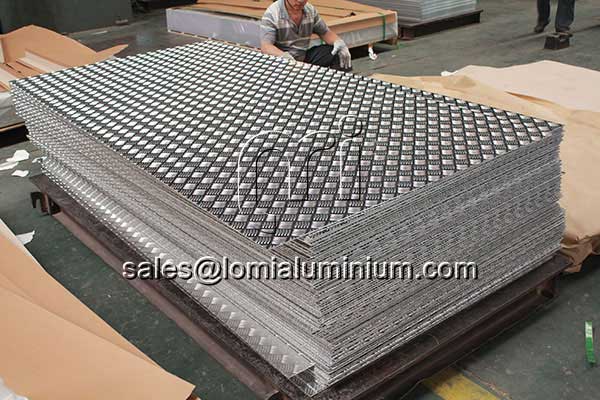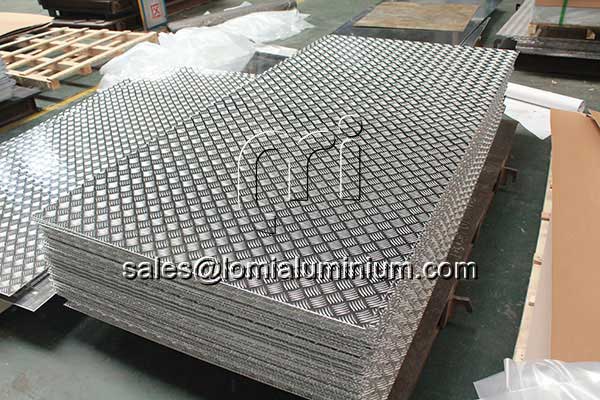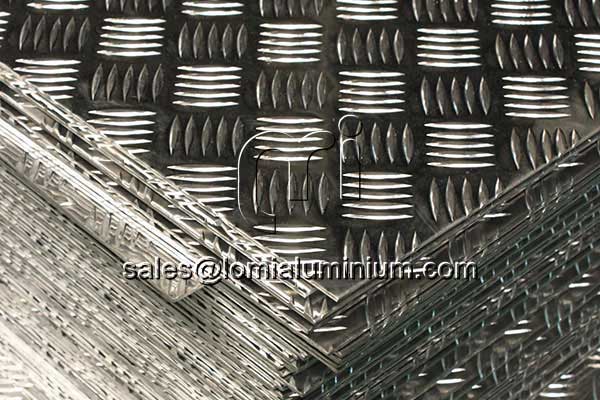 ---
What Is Aluminum Checkered Plate?
Aluminum checkered plate usually refers to 5 bar aluminium checker plate sheet, also called aluminum chequered plate.
Aluminum patterned sheets have an additional die extrusion process than plain aluminum sheets, and usually have a pattern on only one side.There are many different patterns of checkered plates, different aluminum checkered plates are used in different environments and different applications, the more common ones are 5 bar aluminium tread plate, diamond aluminium plate, stucco embossed aluminium sheet, etc.
Common panel Size: Max. 4′ x 10′ (usually 1′ x 1′, 1′ x 2′, 1′ x 4′, 1′ x 8′, 2′ x 2′, 2′ x 4′, 2′ x 8′, 4′ × 4′, 4′ × 8′, 4′ × 10′)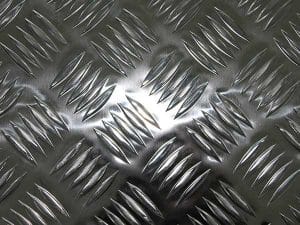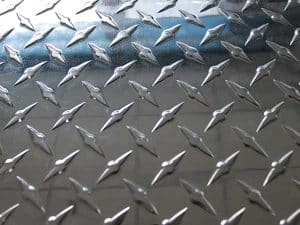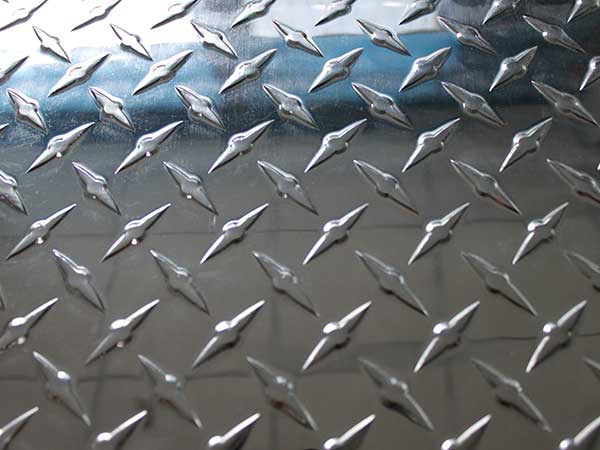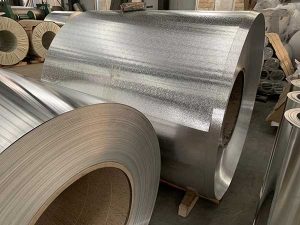 Aluminum Checkered Plate Applications:
5 bar aluminium tread plate has good anti-slip ability and is widely used in the design of architectural (building) decks. Since the pattern on the surface of the aluminum plate is arranged in five concave and convex patterns in parallel, and the angle between each pattern and the others is 60-80 degrees, the aluminium 5 bar tread plate has excellent anti-slip properties.So it is commonly used for loading ramps, trench covers, dock floors, stair treads, and even for cars, trucks, ambulances and fire trucks.

3003 aluminum checker plate sheet is also known as rust-proof aluminum plate. Its strength is slightly higher than that of ordinary aluminium chequered sheet, and it has certain rust-proof performance, but its hardness and corrosion resistance are less than that of 5000 series aluminium checkered sheet. Therefore, this product is suitable for less strict rust resistance requirements, such as truck models, refrigerated floors, etc.

5052 or 5083 and other 5000 series aluminum checkered sheet with good corrosion resistance, high hardness and rust resistance. It is usually used in special environments, such as ships, lamps and other wet environments.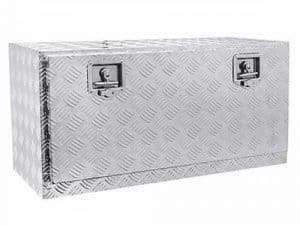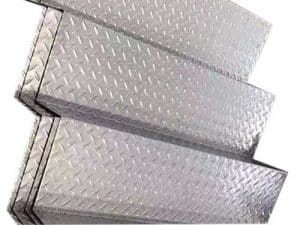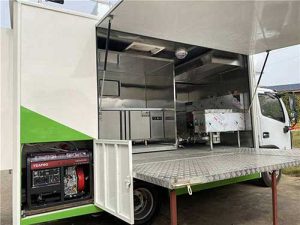 Here are some key factors to consider when judging the quality of an aluminum pattern plate:
Surface Finish: The surface should be smooth, free of defects and uniform in color.
Pattern definition: The pattern should be sharp and well-defined, without any blurring or deformation.
Plate thickness: The plate should have consistent thickness throughout, and meet the specified industry standards.
Alloy grade: The aluminum should be made from high-quality alloys to ensure durability and resistance to corrosion.
Dimensional accuracy: The plate should have accurate dimensions, with no deviations from the specified measurements.
Straightness and flatness: The plate should be straight and flat, without any warping or bending.
Surface protection: The plate should have appropriate surface protection to prevent corrosion, scratches, and other damages.
Testing: Conducting various physical and mechanical tests, such as hardness and tensile tests, can help determine the quality and durability of the plate.
Why choose Lomi aluminum pattern plate?
1. We can make aluminum checkered plates of various alloy numbers
2. We have many years of experience in packaging and transportation, and we have skilled responses to various unexpected situations
3. Our service is very good, whether it is pre-sale or after-sale
How to calculate aluminium chequered plate price per kg?
Calculation formula:Today's aluminum ingot price + factory processing fee = aluminum plate price
I believe this is the most concerned issue for every aluminum sheet buyer. Let's explore the various factors that affect the aluminium chequered plate price:
Quality
Quality is one of the important factors that affect the price, and the products produced by different factories vary due to differences in technical personnel and equipment issues, which is the key factor that causes price differences between different factories.
Service
Service includes pre-sale and after-sale services. I believe 99% of factories can do a good job in pre-sale service, but after-sale problems are where you should be most concerned. A factory with high-quality after-sales service can maximize the protection of customers' interests. This is also one of the factors that affect prices and should be the most important consideration for aluminium chequered plate buyers.
Stable and Continuous Supply of Products
Large factories can guarantee continuous and stable supply, and will not have situations where goods are overdue or unfinished. If it happens, compensation will be given according to the contract. Small factories may have the risk of cutting off supply at any time due to equipment and capital issues. These are also factors that affect aluminium chequered plate prices.
Brand
Aluminum sheet factories with good brand reputation have a lot of good word-of-mouth, and their quality is beyond doubt. This can reduce the multiple considerations of aluminum sheet purchasers, save their time, and improve their work efficiency.
In conclusion, the specific choice of suppliers still depends on your budget and standards for product quality. Because the quality of aluminum sheets required for different application scenarios is different, aluminum sheet purchasers who only need one-time business do not need to consider the issue of stable and continuous supply. Therefore, the choice of aluminium chequered plate price still depends on the business needs of the purchaser.
Product Catalogue:

| Products | Alloy No. | Temper | Thickness(mm) | Width(mm) |
| --- | --- | --- | --- | --- |
| 1000series | 1050/1060/1100/1235/1200/1145 | All Tempers | 0.2-300 | Under2200 |
| 3000series | 3003/3105 | All Tempers | 0.2-300 | Under2200 |
| 5000series | 5005/5052/5083/5086/5182/5754/5454/5A06/5A05/5251 | All Tempers | 0.2-300 | Under2200 |
| 6000series | 6061/6082/6063 | F/TX | 0.2-300 | Under2200 |
| 7000series | 7075/7050 | F/TX | 0.2-300 | Under2200 |
Shipping and Packing Information:
1. Cover the fumigation chapter.
2. Place 20 packs of desiccant per carton.
3. Galvanized steel strip, coated cardboard package to prevent rust.
4. Pine wood bottom bracket is supported by glued bottom plate to maintain the flatness of the aluminum plate.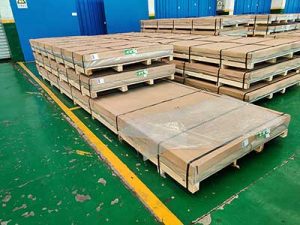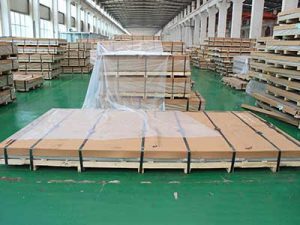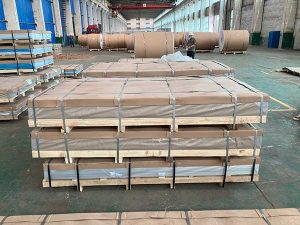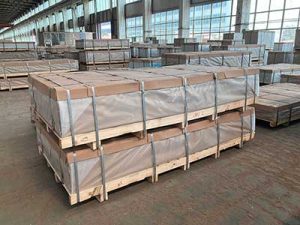 FAQ:
Q: How long can I receive my goods?
A: It depends on the products you ordered. Generally, it needs 30-40 days.If products is stock , about 7-10days can delivery after received deposit.
We have 3200 workers to manufacture aluminium products. We have complete production lines for meeting your needs of products quality and production speed to make sure that our products can get to you faster.
Q: What are your payment methods?
A: TT or 100% irrevocable L/C at sight.
Q:What is your MOQ?
A: Our MOQ is based on the alloy number and the thickness and width of the aluminum sheet.1000 series MOQ 5tons.
Q:How do you ship the goods and how long does it take to arrive ?
A : We usually ship by DHL , UPS , Fedex or TNT for sample. It usually takes 3-5 days to arrive . Seashipping for mass products.
Q: Are your aluminium products quality reliable?
A : We apply professional and advanced equipment for processing aluminium products. These equipment are top-class at home and abroad. What's more, our factory has complete equipment configurations for fine machining. And we have precise equipment for testing products quality. Thus, the quality of end products can be promised.
service
1.100% will reply you within 24 hours.
2.Our output is stable and continuous, with an acceptable range of 10 tons to 10,000 tons.
3.The delivery schedule is very stable, and the transportation information will be reported to you in real time.
4.The price is favorable, and a certain discount can be given under appropriate circumstances to support the customer's business.
5.Reliable quality, stable production, timely after-sales service, welcome your consultation.
Lomi alu mainly sell 1-8 series aluminum plates,diamond aluminum plate and aluminum checkered plate.Have the best aluminium sheet price for sale!