---
BOW, LONGITUDINAL—
Curvature in the plane of sheet or plate in the rolling direction. Usually caused by unbalanced stresses between the top and bottom surfaces of the rolled product. One type is coil set (coil curvature).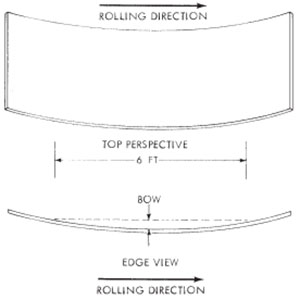 BOW, TRANSVERSE—
Curvature across the rolling direction of sheet or plate.Usually caused by a slight difference between the extension of the center of the sheet or plate and the edge. A more severe case can result in a center buckle.(Should not be confused with anti-clastic curvature.An example of anti-clastic curvature is the transverse off-flatness generated when a sheet with longitudinal bow conforms to a flat surface.)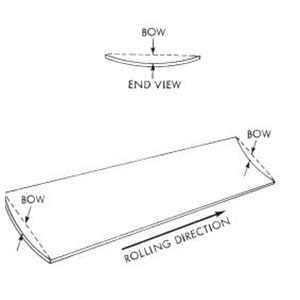 BUCKLE, ARBOR—
(Arbor Break, Tab Mark)Bends, creases, wrinkles, or departures from flat,occurring perpendicular to the slit edge of a coil and which are repetitive in nature, with severity decreasing as the distance increases in the coil from the original source. Normally, they are found on the ID of a coil but they can appear on the coil OD as a result of aprior winding operation. Arbor buckles are caused by plastic bending over a coil and in contact with the mandrel.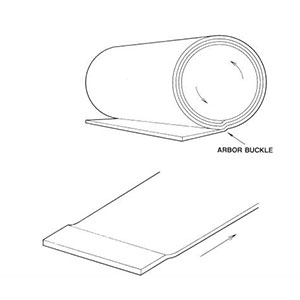 CREASE—
(Pinch Mark, Wrinkle) A sharp deviation from flat in the sheet which is transferred from processing equipment subsequent to the roll bite. If longitudinal, typical sources include idler rolls, leveler rolls, segmented rolls and slitter spacers. If transverse, typical sources include mandrels, coil ends and racks.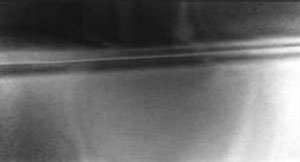 EDGE, BELLED—
Excessive buildup of material on edge(s) during a rewinding operation. Typical causes include excessive edge burr, turned edge, and "dog bone" shaped cross sectional profiles.