4×8 Aluminum Diamond Plate
4×8 aluminum diamond plate refers to a sheet of aluminum that measures 4 feet by 8 feet and has a diamond-shaped pattern on its surface. The diamond plate pattern provides traction and slip resistance, making it a popular choice for various applications such as truck beds, trailers, toolboxes, flooring, and wall panels.
Aluminum diamond plate is lightweight, durable, and corrosion-resistant, making it ideal for outdoor and industrial applications. It is also easy to clean and maintain, and its reflective surface can add a decorative touch to any project.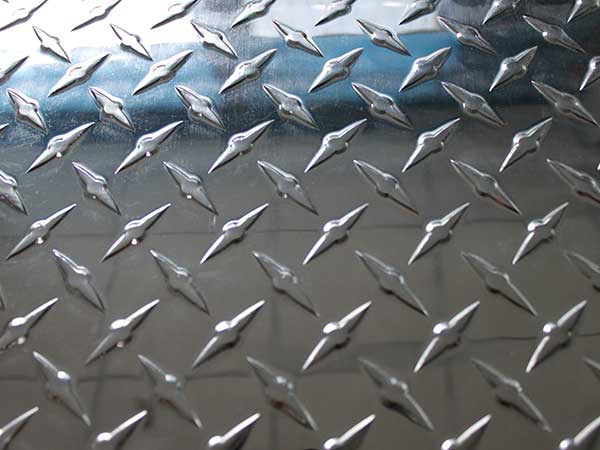 What is the thinnest aluminum diamond plate?
The thinnest aluminum diamond plate commonly available is typically 1/16 inch or 0.063 inches thick. This thickness is often used for lightweight applications where slip resistance is important, such as trailer floors or decorative panels.
Aluminum diamond plate can also come in thicker gauges, such as 1/8 inch or 3/16 inch, for heavier-duty applications that require more strength and durability. Thicker diamond plate can be used for truck beds, loading ramps, and industrial flooring, among other things.
The thickness of the aluminum diamond plate you need will depend on the specific application and the amount of weight or traffic it will be subjected to.
How much is a sheet of aluminum diamond plate?(2023.4.19)
The cost of a sheet of aluminum diamond plate can vary depending on several factors, such as the thickness of the sheet, the size of the sheet, and the supplier you purchase it from.
1050 2*1200*2440 diamond tread plate. We can offer with FOB Guangzhou USD3630/ton. Thicker sheets can cost more, and larger sizes can also increase the price.
If you want to buy 4×8 aluminum diamond plate, you can contact us on our website. The price of lumber may vary depending on the thickness, grade and finish of the material.
E-mail: lomialuminum@gmail.com
Tel Whatsapp: +86 19339942739
https://www.lomialuminium.com/aluminum-sheet-price/