5 Bar Aluminium Checker Plate: Versatile, Durable, and Corrosion-Resistant
If you're looking for a material that's versatile, durable, and corrosion-resistant, you might want to consider using 5 bar aluminium checker plate. This type of aluminium plate is also known as aluminium chequer plate, aluminium tread plate, or aluminium diamond plate. Its name comes from the uniform arrangement of groups of 5 raised lozenges, with each group set at 90 degrees to each adjacent set. The 5-bar pattern produces a textured and 3-dimensional pattern that helps with grip and makes the plate hard-wearing and durable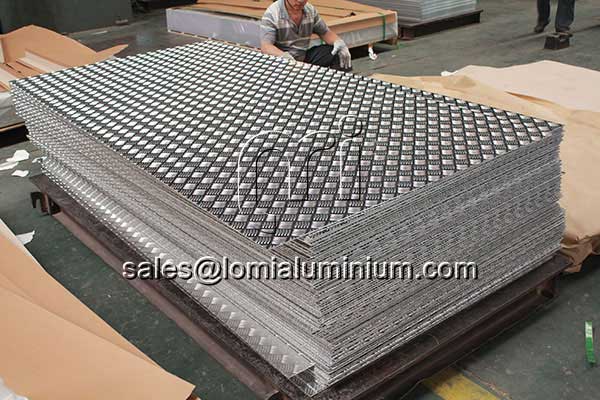 One of the advantages of 5 bar aluminium checker plate is that it's available in a range of thicknesses, from 1.5mm to 6mm, which makes it suitable for a variety of applications. The thickness quoted refers to the base plate thickness, and the 5-bar or chequered pattern sits on top of the base plate. Therefore, the overall thickness of the plate varies depending on the base plate thickness.
Another advantage of the 5 bar aluminium checker plate is that it's stocked in grade 5754 H22, which is both harder and stronger than 1050H14, the standard grade of Aluminium Plain Sheet. Despite this, the aluminium checker plate still has great workability and formability and is designed for cutting, shaping, and folding. It also has excellent weldability, making it a great choice for general fabrications.
One of the most significant advantages of an aluminium checker plate is its excellent corrosion resistance, which makes it ideal for outdoor use as it will not rust. This resistance also makes it a great choice for marine applications, as it has excellent resistance to saltwater and seawater. The 5-bar pattern also makes the plate anti-slip, which is useful for applications that require a non-slip surface, such as vehicle ramps, walkways, platforms, stair treads, and flooring.
In addition to its functional properties, the 5 bar aluminium checker plate also has an industrial look that can be pleasing to the eye. This combination makes it a popular choice for applications such as trade counters, exhibition stands, wall and door coverings in places such as gyms, supermarkets, and cash & carry's, as well as for fairground and amusement rides, bars and nightclubs, and even horse boxes.
At The LOMI Website, we stock high-quality 5-bar aluminium checker plates that can be cut to your specific length requirements. If you're interested in purchasing our aluminium checker plate, you can order online via our website, email us at lomialuminum@gmail.com, or give our sales team a call at +86 19339942739.